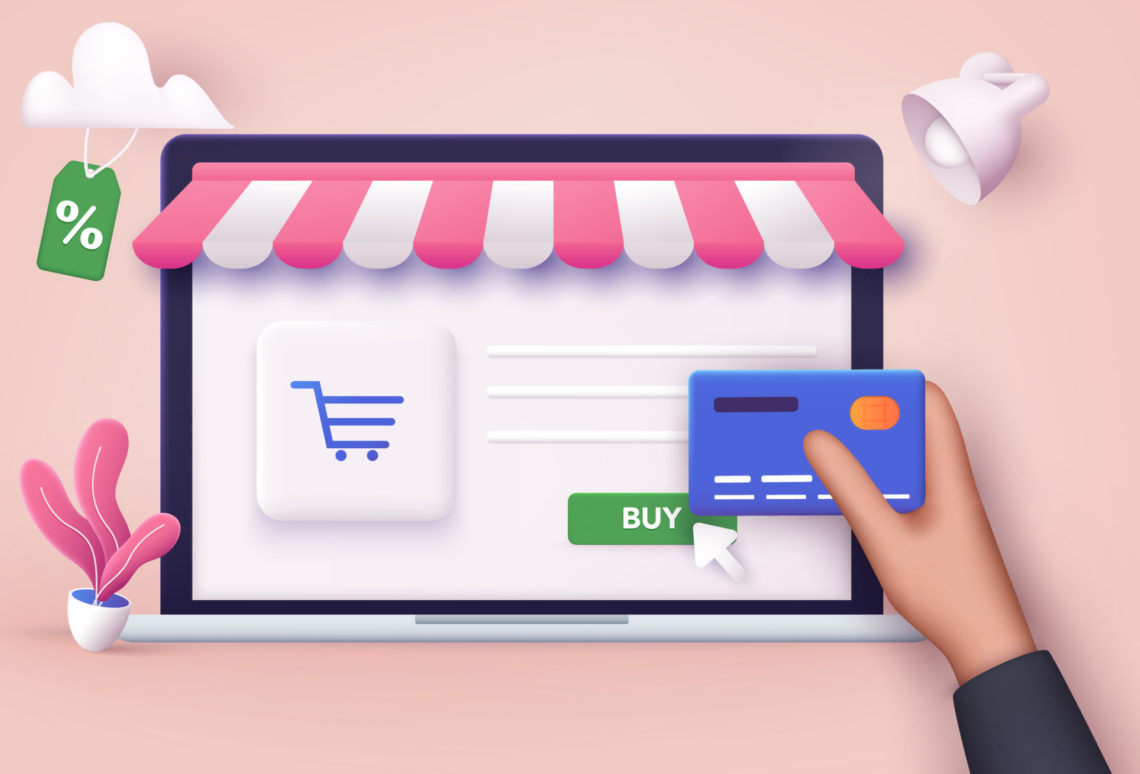 In this article I'll be looking at product page optimization and how very simple tweaks to a product page can dramatically improve the results you achieve.
I'm going to give you five strategic steps that you need to take on any product page to make that page convert visitors into paying customers better in order to achieve incredible results for your business.  
At the end of this article I'm also going to give you two bonus strategies that not many people know about. These strategies will boost the lifetime customer value immediately when applied to any product page. 
Here Are Five Product Page Optimization Strategies That Will Boost Your Results In Minutes
#1 Product Page Title and Price Comparison
The first strategy in the product page optimization process is to look at the product page title and price comparison. The product page title and price comparison will determine how much time a person will spend reading about your product.
The product page title has two very important functions. Firstly, it tells visitors exactly what the product is. Secondly, it tells those visitors why they should buy that product immediately.
Here's an example of a product page showing the title and price comparison: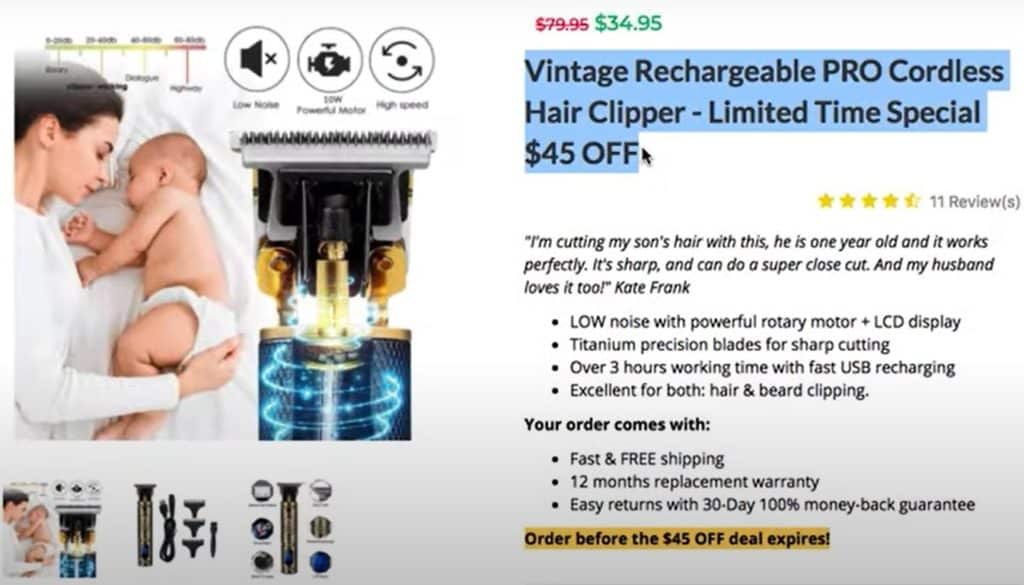 We can clearly see that this product page title immediately tells the visitors to this product page that this is a vintage PRO rechargeable hair clipper and that they need to purchase it right away because it has a limited time special offer price of $45 off. If you don't give the page visitors a reason to buy now then they're much less likely to buy at all.
From the hair clipper example above it's clear the product page title needs to give two very important bits of information. It needs to very quickly and effectively tell visitors what the product is. And also why they should buy that product now.
So there you have product page optimization hack number one. Make sure that your product page titles include these two important pieces of information.
The second aspect of this strategy is the price comparison. In the example above you can clearly see what the price is before and after the $45 discount. If the price of $34.95 was the only price on the product page then a visitor to the page would wonder if it's a good price. The fact that you're showing them that the original price was $79.95 answers that question for them. This makes it more likely for them to make the purchase without looking elsewhere for a better deal. They accept subconsciously that it's a good deal and are more likely to take action immediately.
#2 Main Description, Reviews and Featured Image
The next strategy we need to consider when looking at how to optimize your product pages for more sales is looking at the main description, the reviews and the featured image all at the same time. Then deciding whether they answer all the questions that a potential customer would have if they were considering whether to buy your product or not.
We all know the power of product reviews, so let's look at product reviews first.
Most people today won't buy a product unless they've seen that other people have used the product and were happy to give it positive reviews. Reviews are recommendations from real people who have purchased the product and were happy with their purchase.
It's therefore important that we make it as easy as possible to leave a review. Because people are so busy it's important that we make it worth the effort to leave the review.  Incentivizing people to leave reviews works well. Offer a discount if they leave a review and upload an image of the product.
This is a feature of the DashNex PowerTech Storebuilder which makes it very easy to upload the image and clearly shows the incentive to do so: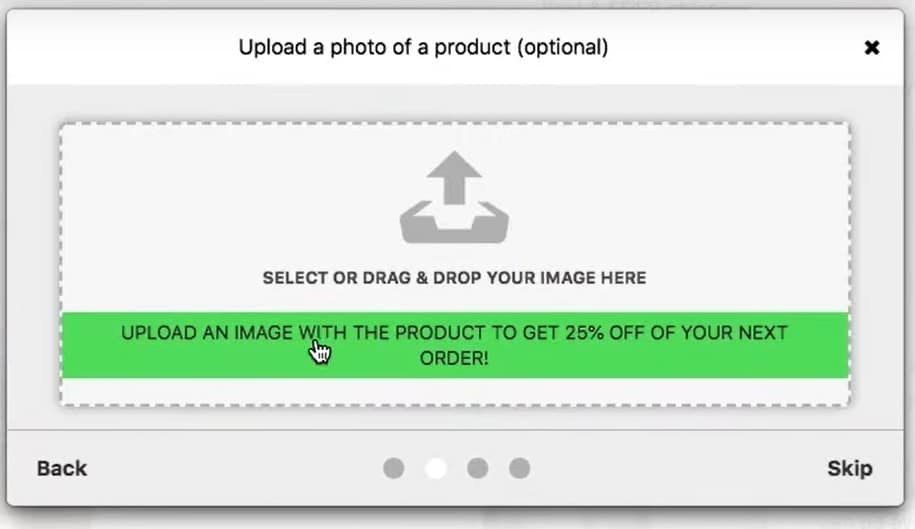 When looking at the product description and the featured image you really need to ask yourself who your primary customer is. You need to understand who the customer is that you are targeting with this product page. You should picture in your mind who would be walking through your store doors if you had a bricks and mortar store. So have a featured image and product description that would speak to that customer. 
For the product description it's important that you highlight the benefits of the product and how this product will give them the solution to the problems that they are looking to solve. The first part of the description needs to be really engaging. It needs to give the customer the comfort of knowing that the product is right for them.
A few bullet points making it clear what the main benefits of the product are, what they can expect from the product and how it will solve their problem. 
This image shows how these bullet points make it very clear that this product will give them what they need: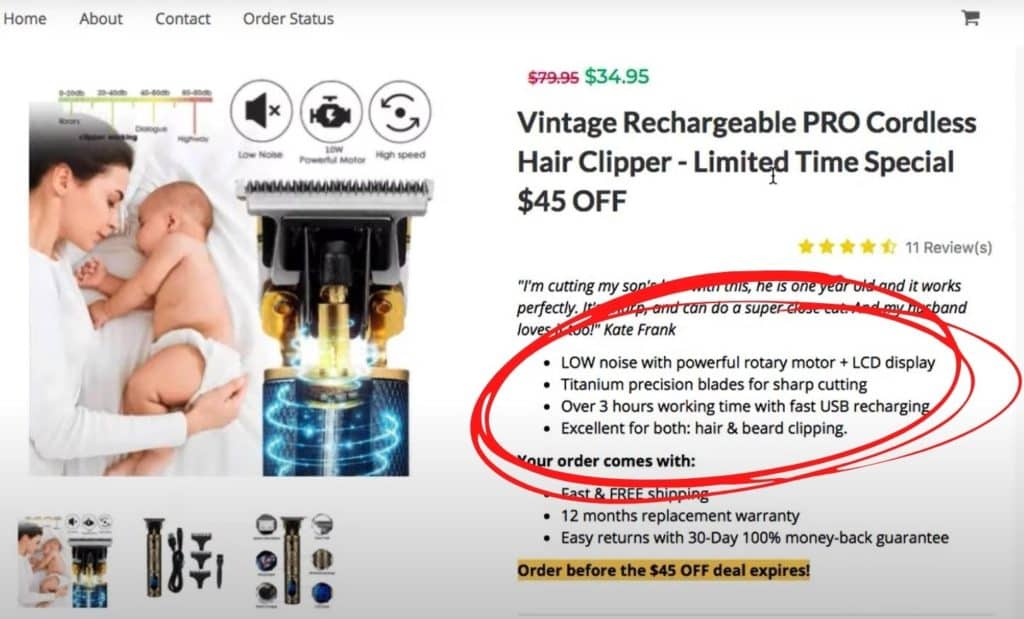 Of secondary importance is a few call to action points such as free shipping, warranties and guarantees. 
The least important aspect of the product description is the technical details of the product.  These can appear lower down in the product page. 
The featured image should be an image that the ideal customer would identify with. It also needs to clearly show how the product would solve their problem. 
#3 Product Options
The next product page optimization strategy that needs to be implemented is looking at your product options and ensuring that they meet your customers needs.
Having product options such as color, size and gender options that are displayed in an easy to understand and easily navigable manner are vitally important. Customers need to understand what the product options are. They also need to know how to navigate through the different options to choose the ideal product for them. 
Dashnex PowerTech Store Builder has a feature called pinch zooming. It allows customers to choose different product options and the images change accordingly. For instance, if a customer is on a t-shirt product page and chooses a blue t-shirt, then the image of the model changes the t-shirt color  to blue. This helps the customer visualize the t-shirt they are considering buying. It also makes it more likely for them to make the purchase.
Here you can clearly see that the customer clicked on the green color and the image changes to green t-shirts: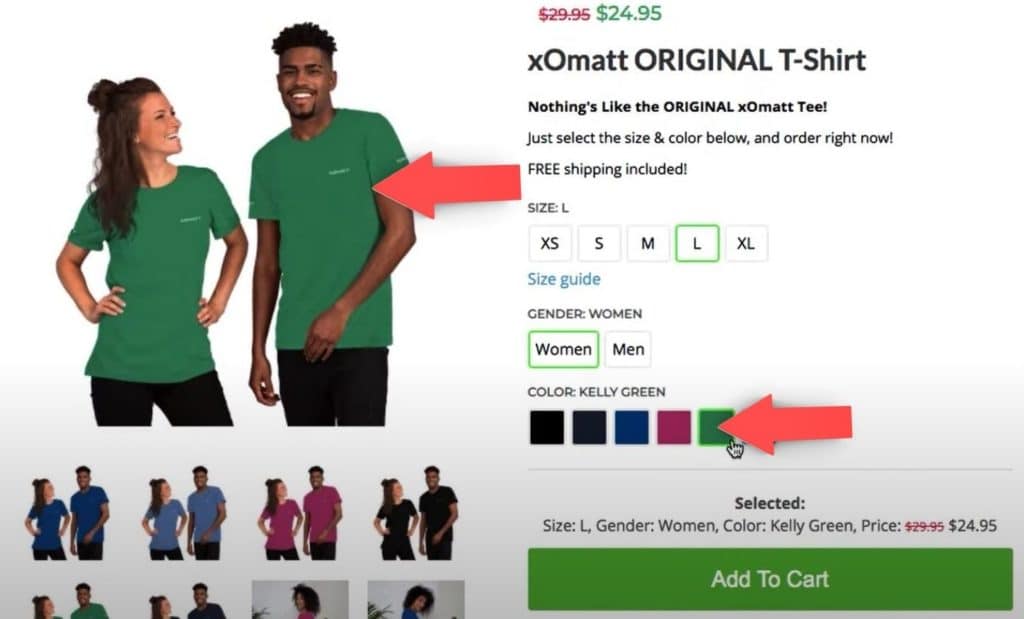 It's also very important to have the product descriptions of what product options you have selected. This should be just above the "Add To Cart" button as well as the price comparison. This is so it's clear exactly what product you would be adding to the cart. It's also reminding customers why it's important to buy the product now due to the discount. 
#4 Timer, Progress Bar and Custom Button
Another vitally important aspect of knowing how to optimize product pages that convert is the ability to create scarcity. Timers and progress bars creates the required urgency  to give you the best chance of making the sale. 
Human brains are wired to hold back on making decisions. Especially when it involves spending money. Unless we have a specific time frame limiting the amount of time in which we need to make the decision.  We worked hard for our money, so won't want to part with it immediately unless we feel it's necessary. That's why enforcing scarcity with a timer and progress bar is so important on a product page.
I've shown how vitally important timers and progress bars are. But there is an extra element that you can add that will help you generate more sales with the same number of visitors to your product page.
Adding an additional element just above the progress bar and timer telling the customer how many items of that product are left in stock. This creates more urgency and motivates the customers to buy right away. In their mind they will miss the incredible offer that your product page is promoting if they don't buy now.
Here you can clearly see how we show the number of products that are left in stock, what the progress of the customer is and how long till the offer expires: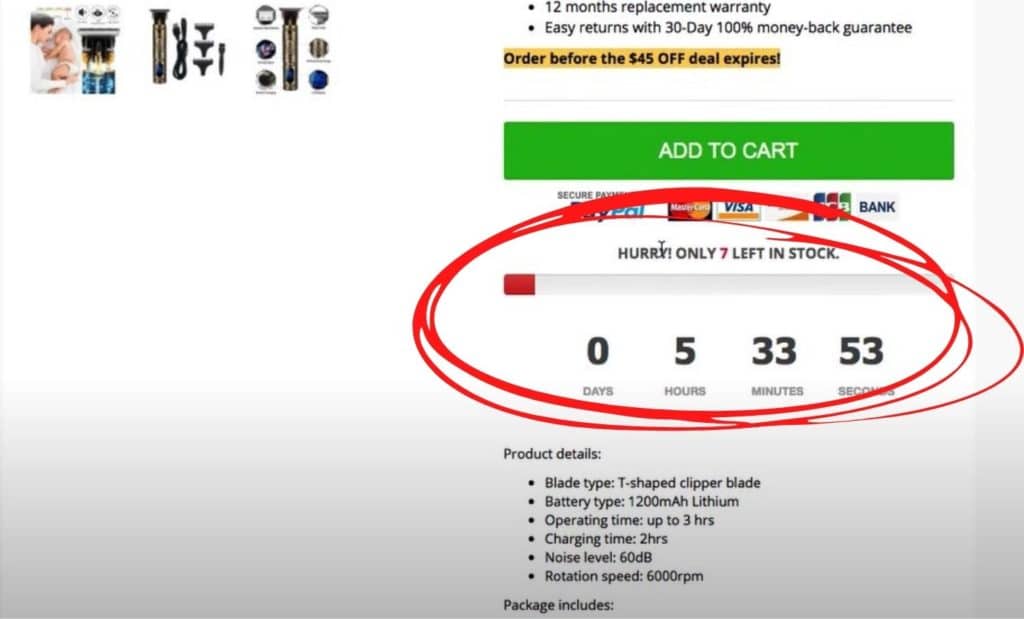 Another important aspect of creating scarcity is having the appropriate call to action bar such as an "Add to Cart" or "Buy Now". It's been proven that the "Buy Now" button which goes directly to the checkout page converts better than the "Add to Cart" button. Customers add products to the cart and then get distracted, so sometimes don't complete the transaction. When the "Buy Now" button is used it's more likely for the customer to complete the transaction. It's because they just need to add their details and the purchase is completed. Take a look at our article on the Best Checkout Page Design For Your Online Business To Significantly Increase Sales.
#5 Social Media Optimization
The fifth and final core product page optimization strategy involves social media optimization.
When I talk about social media optimization you might think I'm talking about social media sharing buttons.  But this is not the case. In fact social media share buttons will actually significantly slow down the loading speed of your product pages. This will affect the conversions negatively.
When I talk about social media optimization I'm talking about ensuring that your product page will look good if it is shared on social media. "Open Graph" is what we use to do this. So ensuring that you have an optimized open graph title, description and image is incredibly important if you want social sharing to result in sales of your products. 
Open Graph image optimization is particularly important. This is why DashNex Store Builder has templates of image frames which can increase the product sales conversions.
Here is an example of an open graph image frame used for the hair clipper product page I showed earlier: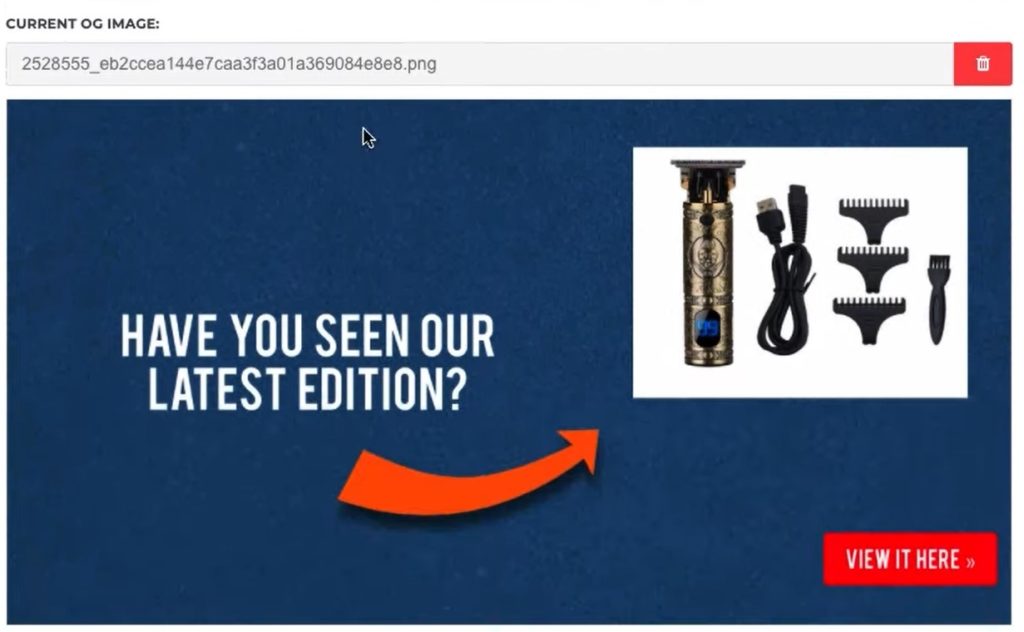 Bonus Strategy #1 – Private Product Pages
So we've looked at the five core product page optimization strategies. These are product page title and price comparison, main description, reviews and featured image, the product options, timer, progress bar and custom button as well as social media optimization.
These five core strategies can be used whether you sell physical products,  digital products or services. They will work to increase conversions and get more sales for you.
Now, as promised I'll reveal the first of my two bonus product page optimization strategies. This will increase conversions and therefore increase your revenue. 
The first bonus strategy is to have private pages for any product that you have in your online store. The reason for this is to have the ability to create custom campaigns for your products. For instance you can create a Labor Day, Valentine's Day or any other campaign for your product. A private page gives you the ability to customize your product page so that customers feel like they're getting a special deal. This increases conversions and revenue for your business.
Here you can see examples of private pages created in DashNex Storebuilder:

Bonus Strategy #2 – Dedicated Mobile Store
We all know that mobile devices have become the device of choice when scrolling online. This is why it's incredibly important that the user experience when a customer visits a product page using a mobile device needs to be top class. 
Being mobile responsive isn't good enough anymore. This is why DashNex has dedicated mobile stores to give the customer the best possible experience. This ultimately will increase conversions, sales and revenue. 
Being able to customize mobile product pages depending on your product is key to giving the customer a great mobile page experience. This will ensure that you have the best chance of making the sale.
Here I show how the product page needs to look on a dedicated mobile store: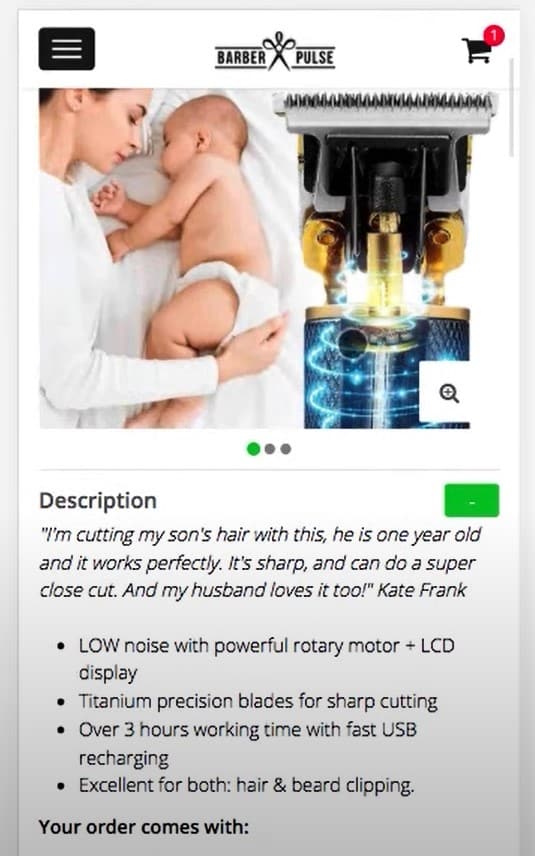 Conclusion
I have given you all the strategies you need to do product page optimization in order to increase conversion, sales and revenue. You now know how to create scarcity. You know how to align your messaging on your product page with the objectives of your target audience. As a bonus I showed you how private pages and mobile optimization can work together to generate more results for your business. 
The key is to take action and use these strategies to optimize your product pages. This is so that you can increase your chances of making as many sales as possible and give you massive revenue growth! 
We've made a video on these product page optimization strategies. So please feel free to watch it below this article. Subscribe to our YouTube channel and click the bell button to get notifications whenever we post valuable content.